TRENDING
Dog With Human Face Goes Viral, Sparks Celebrity Look-A-Like Comparison
Dogs are definitely adorable but one pooch is creating buzz online for his unique feature – a face looking like a human.
Meet Yogi, a one-year-old Shih-poo (a cross breed between a Shih Tzu and a Poodle), whose face has an odd resemblance to a human.
The fluffy pooch unknowingly set the internet on fire after a photograph of him and his pal Daria, an eight-year-old Shih Tzu, was posted on Reddit and was also shared on Facebook.
"A friend of a friend posted a pic on Facebook of her dog," read the caption. "It looks like it has a man's face."
People think so too with comments like: "Wtf he has the most human eyes I've seen on a dog," said one observer.
A woman called Michelle added further analysis, "But it's not just his eyes. Look at that little grimace smile that can only come from a middle-aged man whose soul has been given to corporate."
Yogi's owner, Chantal Desjardins was so surprised over her pets becoming internet sensations after sharing their photos.
However, there are some who are skeptics about Yogi's true face and believes that the owner is having fun in Photoshop or face swap app.
But the 27-year-old owner from Massachusetts shot them down and swears he is 100 percent a puppy and says, "It [photo] is not doctored at all. Those are my dogs. I put the photo up in December.
"It really isn't [edited]. I'm not a photographer at all. I think it's just his eyes and the way he's looking at the camera."
See for yourself:
Since then, people have been comparing Yogi to celebrities
View image on Twitter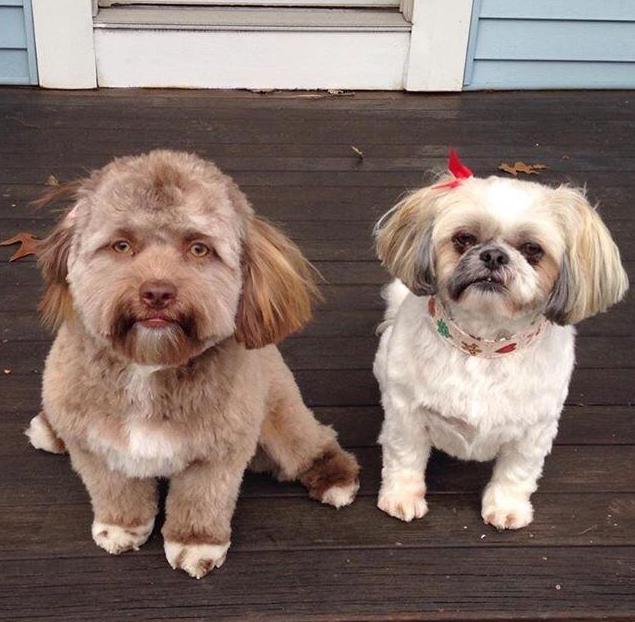 THIS DOG HAS A HUMAN FACE

12.1K

3,780 people are talking about this
Twitter Ads info and privacy
Kinda looks like Ed Sheeran though.
He's actually a bearded man.
The mustache!
He stares like a real man. Those eyes!
Despite the instant stardom, Chantal confirmed that Yogi is, in fact, a good boy.
The loving owner said she got Yogi back in April, and he's just like any other puppy. She said she didn't see his 'human face' before.
"He's super happy," she said. "He loves to play and cuddle. It's funny because I really didn't see it before. I don't really see him differently."
Chantal even admits that at first, she didn't realize that her pet Yogi resembles a human face until many people pointed it out on Twitter.
But still, Yogi is definitely one unique dog.
Via: Mirror